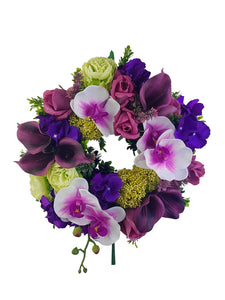 "Tropical Haven" Mausoleum Wreath-16"L-PREMIUM
Regular price $83.00 Sale
"Tropical Haven" Mausoleum Bouquet-16"L-PREMIUM
The "Tropical Haven" mausoleum wreath is an eye-catching and contemporary design clustering same blooms together as they would natively grow in your garden. A colourful and striking piece. We love this design so much, we have included it in "My Secret Garden Collection."

Similar to the "Reflections" wreath, this piece truly represents a tropical garden motif. The arrangement is made up with two-tone Real Touch Phalaenopsis Orchids, Real Touch Sweetheart Roses, Snowballs, Deep Purple Hydrangea, Soft Green Cabbage Roses, Real Touch Calla Lilies, Boxwood clusters and trailing vines. 
Suitable for both indoor or out on mausoleum walls. If you are using this product indoors, then this item will last for multiple seasons.
The completed size including the 7" stem is 16"Lx13"W.
Urn Not Included
Made in Canada 
We Support the Usage of Recycled Goods Where Possible
Our Durable Custom Shipping Boxes Can Be Re-Used to Store Your Arrangements During Seasonal Transitions 
We are Not Responsible For Any Damages Caused by Weather Conditions
All Sales Are Final