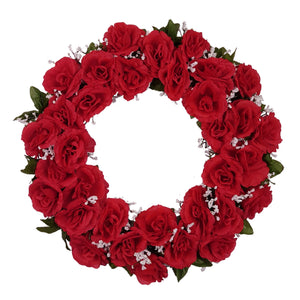 "Dearly Departed"- Tombstone Wreath-21"
Regular price $86.00 Sale
"Dearly Departed" Tombstone Wreath-21" Diameter
Recipe:   Open Garden Roses, Rose Leaves and garland.
Design:   Traditional Wreath Design
Size:  21" in diameter
Usage:  Memorial Tombstone Tributes are displayed on wire easels and are placed on graves.  The best time to place these tributes on memorial graves is in late October or before the first frost and removing them in spring.  Most cemeteries will not allow these in the Spring/Summer months.  Easels are purchased from us separately and are offered in different sizes.  
Wire Easels:  We sell "Wire Easels Stands" in both a 36" or 42" height at $9.99 each and it must be ordered separately.  We also offer our clients the service of wrapping the frames in plastic and wiring them onto the wire stands at no charge.  If you are interested in having this service, kindly type in "Full Service" in the Notes box at checkout. 
We recommend ordering the 36" Wire Easel Stand for this item.
  If you have your own easel stand, we recommend you label the backside of the wreath with either the person's name, the crypt # or both.  This can be done easily on a label or sticker.
   Instructions for  Wreath set up is as follows:
Place the Wreath on the easel 
Using cable ties or wire, secure the wreath to the easel stand
Once the wreath is firmly fastened to the easel, push the feet of the easel into the ground minimum 6" deep to ensure stability.
After the first frost occurs, the stand will be more secured into the ground for the remainder of the winter months.     
SHIPPING PROMOTION 
We offer free regular service shipping to the following areas for any order over $120.00.  
Barrie, Innisfil, Bradford, Newmarket, Aurora, Richmond Hill, King City, Maple, Woodbridge, Nobelton, Kleinburg, Brampton, Mississauga, Thornhill, Toronto, Oshawa, Whitby, Ajax, Pickering and Scarborough.
 Simply add FREESHIP in the discount code box at checkout.
Made in Canada 
We Support the Usage of Recycled Goods Where Possible
We are Not Responsible For Any Damages Caused by Weather Conditions
All Sales Are Final